For better or worse, social media has become an integral part of our lives. We use all sorts of platforms to connect with friends and family, share news and experiences, and stay up-to-date on current events. But did you know that social media can also be a powerful marketing tool for small businesses?
In 2022, the benefits of social media marketing for small businesses are truly immeasurable. Businesses of all shapes and sizes can use social media to reach a larger audience, build brand awareness, generate leads, and drive sales like never before, without breaking the bank.
Why Small Businesses Need Social Media Marketing
So, why is social media important for your business? In our day and age, potential customers are spending more time than ever scrolling through their feeds. If you're still not convinced whether your small business needs social media marketing, consider the following statistics: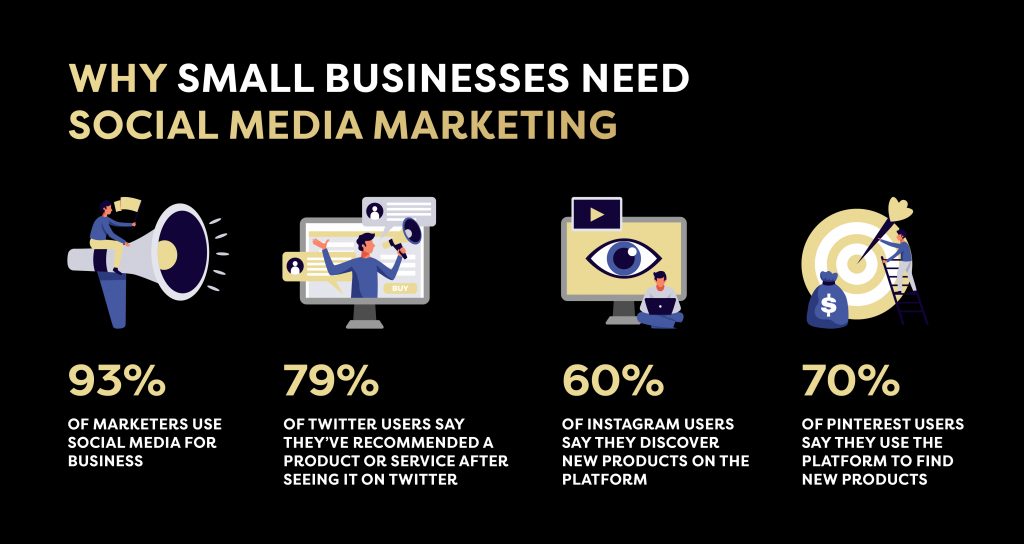 93% of marketers use social media for business
79% of Twitter users say they've recommended a product or service after seeing it on Twitter
60% of Instagram users say they discover new products on the platform
70% of Pinterest users say they use the platform to find new products
As you can see, social media is no longer a nice-to-have for businesses; it's a necessary part of any marketing strategy. If you want to stay competitive and reach your target audience, you need to be active on social media.
A Cost-Effective Way To Reach Customers
With proven social media marketing for small business, you can connect with customers and prospects without spending a small fortune on advertising. Setting up a Facebook page for your business is free. You can also use free tools like Hootsuite to help you post updates and monitor what people are saying about your brand.
Plus, social media provides an opportunity to connect with customers on a personal level. In fact, 78% of consumers say that they are more likely to buy from a company if they have an active social media presence.
This is because customers want to do business with companies they feel they can trust. When you interact with customers on social media, you're building trust and credibility that invariably lead to sales down the road.
Promotes Brand Awareness
One of the most important benefits of social media marketing for small businesses is that it can help increase brand awareness. With over 4 billion active users on social media, your customers are out there, waiting to be amazed. But how do you get them to notice your business? One way is to post interesting and engaging content that will get people talking. You can also use paid advertising to reach a wider audience in a targeted manner.
When people see your business pop up in their newsfeed, they'll start to become familiar with your brand. The more times they see your brand, the more likely they are to remember it when they need your product or service.
Boosts Content Marketing
If we are to explain how social media has impacted marketing for small business owners, we cannot cover the topic fully without mentioning content marketing. It is perhaps the most important marketing tool available today, and for a good reason!
Content is what people are looking for when they're on social media. They want to be entertained, informed, and engaged. If you can provide them with high-quality content that meets their needs, you'll be well on your way to boosting sales and becoming a trusted authority in your industry.
Not to mention, social media is a great way to promote your content for SEO. When you share your blog posts, infographics, and other types of content on social media, you're giving people the chance to see what you have to offer, while building valuable links and traffic. If they like what they see, they're more likely to visit your website and take action.
Encourage Sales
Social media can also be used to boost sales. The more people engage with your brand on social media, the more likely they are to buy from you. In fact, social media has a 100% higher lead-to-close rate than outbound marketing. Companies that use social media to generate leads see a 13% higher conversion rate than those that don't.
Increases Website Traffic
There is no doubt that social media can help boost website traffic. When you post links to your website on social media, you're giving people a reason to click through to your site. When people search for keywords related to your business on any platform, your social media posts may show up in the results.

Did you know that Google takes social signals into account when ranking websites in the search results? Whenever people talk about your business on social media, it directly increases your website's search engine optimization (SEO) ranking.
Gives Your Brand Legitimacy
When your brand is active on social media, it gives your business a sense of legitimacy. In today's digital world, consumers are more likely to trust businesses that have a great online presence.
An active social media presence also shows that you're keeping up with the latest trends, and shows that you're interested in building relationships with your customers.
Helps You Know Your Audience
Just as social media makes your audience know your brand, it also opens up your audience to your company. By using various social media tools, you are able to know the age, gender, language, location, and interests of your target customers.
You can use this information to create content that appeals to them, and you can use it to customize your marketing campaigns to better reach your target market.
Builds Customer Loyalty
Finally, social media marketing can help build customer loyalty. When customers feel connected to your brand, they're more likely to continue doing business with you. Social media provides you with an opportunity to be there whenever they need you the most. You can build relationships by responding to their comments and questions.
You can also show your customers that you care about them by sharing relevant and interesting content. When you provide value, they'll be more likely to stick around for the long haul.
Why Is Social Media Important For Small Businesses?
The bottom line is that social media marketing is a great way to promote your small business. It's cost-effective, increases sales, boosts website traffic, builds loyalty, and helps you know your audience inside and out. So what are you waiting for? If you're not yet using social media to market your business, now is the time to start. You'll be glad you did!
Get In Touch With Our Team For Professional Social Media Marketing Services
The benefits of social media marketing for small businesses are clear. At Next Level SG, we offer comprehensive social media marketing services for brands of all sizes. We'll help you create a social media strategy, manage your accounts, and generate results. Get in touch with us today for a social media strategy that works, as it's always meant to be.
Schedule a free consultation with our team of social media ninjas to learn more about how we can help you grow your business. Contact us today at 8376 5715 and we'll create a custom social media marketing plan that fits your needs and budget.